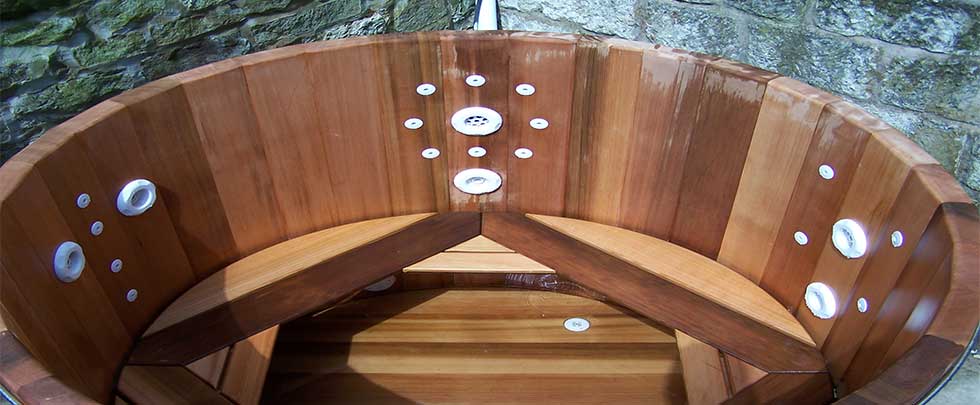 HIGH FORCE WOODEN HOT TUB
Standing a full 4ft in height, Terete Hot Tubs are deeper than acrylic spas. This extra depth increases buoyancy creating a wonderfully, relaxing, luxurious hot tub. All Terete Hot Tubs are made from the finest kiln dried cedar wood. Cedar is renowned for its longevity and our premium grade cedar wood hot tubs boast the thickest staves on the market. There are no liners or acrylic shells in our hot tubs just wonderfully tactile and aromatic cedar.
A practical demonstration on water maintenance and control pad operation will be given on installation as well as instruction booklet.
The high force model is our top of the range model and comes with 26 jet system and a bubble bench which makes the whole hot tub erupt with bubbles which massage the body. All our hot tubs come with a rigid thermal cover and a chemical starter pack as standard with all our electric hot tub models.
HIGH FORCE MODEL EQUIPMENT
26 jet system including 6 adjustable hydrotherapy jets
2 pumps
3kw water heater
50 sq.ft cartridge filter
22 LED underwater balboa lights
Bubbler/blower unit
Spa top-side deluxe LCD control panel
UV water management system
HIGH FORCE MODEL SERIES ELECTRICAL REQUIREMENTS
32 amp
HIGH FORCE MODEL SERIES WOODEN HOT TUB SIZE AVAILABILITY
5ft, 6ft, 7ft & 8ft Diameters
DUAL-FUEL
Featuring a powerful 40kw external wood burning stove, it gives you the option to use electric and or wood-fire to heat your hot tub; available as an optional extra. For further details on the dual-fuel please click here.
LOOKING FOR SOMETHING DIFFERENT?
Other shapes and sizes available – POA.