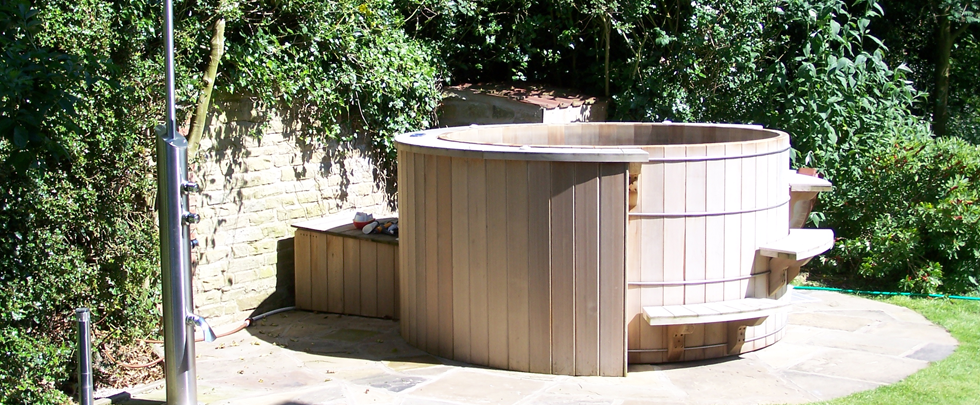 Wooden Hot Tubs
The benefits of hydrotherapy go way back to the Roman era where they were famous for their spa baths as methods of relaxation. Other ancient civilisations are known to have indulged themselves in hot water springs as a way to unwind.
Whilst soaking in a hot tub, the heat, massage therapy and buoyancy combine together creating the perfect environment for treating any number of ailments, such as arthritis and sports injuries. When the body relaxes in the hot water, in essence it has chance to mend. The body temperature will take an automatic rise making blood vessels dilate. The result from this is an increased circulation which in turn releases endorphins, the body's own natural painkillers. Blood pressure and sugar levels are also reduced by the heat, meaning the respite in itself can prove a positive aid to healing.
The massaging action in the water is created in two ways. Firstly, by the water jets in the wall and base of the tub, the intensity of which can, if desired, be increased by the controlled introduction of air. Secondly, by the bubbler ring under the bench seat which just fills the whole tub with air bubbles.
greater depth creates greater buoyancy
Because of their greater depth, our hot tubs provide extra buoyancy in a free-floating upright position offering further comfort for a more invigorating experience. Face to face conversations are much easier when upright, rather than lying horizontally in a pre-determined moulded position as in a conventional acrylic spa. It is also this extra buoyancy that relieves pressure on joints and muscles creating the relaxed sensation every tub user should experience.
An early morning dip in the hot tub can set you up to face the challenges of daily life. Fully relaxing before the day begins allows you to take in the calm and let your body prepare itself for oncoming events, taking a tranquil approach into the first task awaiting you. A long soak before retiring to bed will encourage a good nights sleep by massaging away stresses and easing off any aches and pains temporarily.
The ability to be able to relax fully can be challenging at the best of times. Investing in an item which offers you this very luxury whenever you desire is incomparable. Relaxing in your own back garden inside a hot tub on a bitterly cold winter's evening alone, or with friends and family can prove to be the perfect tonic. We are located in Osmotherley, North Yorkshire. For more details, contact us today!
Hot tub usage becomes part of daily life – not one that fades when the novelty wears off
CHOOSING YOUR HOT TUBS
Each wooden hot tub is crafted from the finest, clear heart, vertical grain western red cedar wood. The staves are precision milled and the thickest available. This extra thickness gives our hot tubs more insulating value and a longer lifespan than the thinner wooden hot tub on the market.
We have different model hot tub dependent on your requirements.
DUAL-FUEL
Featuring a powerful 40kw external wood burning stove, it gives you the option to use electric and or wood-fire to heat your hot tub; available as an optional extra. For further details on the dual-fuel please contact us.
OTHER RANGES
Plunge Pool with optional filtration pack
Bespoke Hot tubs, Please Contact us to discuss your needs.
Cedar Wood Sauna